Yes..... it happened again!!!!!
Back in 2006 some of you followed the 3 day venture Paul (The Mobile eletronics resident tax payer absorbing Mexican) and I (The fat white definition of a car audio looser) did to my little POS Saturn (Definition of not being able to afford current gas prices)...... Here are some reminders for those of you new to the story...
So Paul and I got Bored and pissed off the wife really bad!!! NOT 56K friendly - Passat World Forums
Well this Saturday Paul and I went into the shop to start planning the new system for his car. We then realized that we were only able to do some planning and had a bunch of materials and product to order.
Being that the day was going to dgo to waste we decided to do some maintance to my Saturn.......... THIS WAS A BIG MISTAKE!!!!!!
Then I said... "I have an idea".....
Within about 30 minutes this is what happened
WHERE DID IT GO!!!!!!!!
Yep... I tore it all out....
So Paul and I redid the entire trunk minus 2 trim panels for the trunk.... would of been done but had to trouble shoot a small atennuation issue... Yes thats right.... a whole trunk in one day!!!! wooohoooo Paul were getting faster....
First step we repaired some of the existing dynamat and sealed up a few holes from the mounting screws from the previous install... Then in the bottomn of the spare tire well we installed 1 layer of 1/2" Dynaliner to help prevent any resonations thatcould be created from the subs between the flat board we were about to put it to flatten out the floor for the wiriing and processor display.
Then the flat board was cut and prior to screwing it down heavy beads of silicon was put on all edges of the board and the rear mounting strip to prevent squeaks between the metal and the wood.
Next after the board was installed and a few yards of basic trunk liner was glued down the layout was to begin...... (wire displays, processor, baanced line converters, extra battery)
Then we fastened down the product and started the prewire of the lower chamber....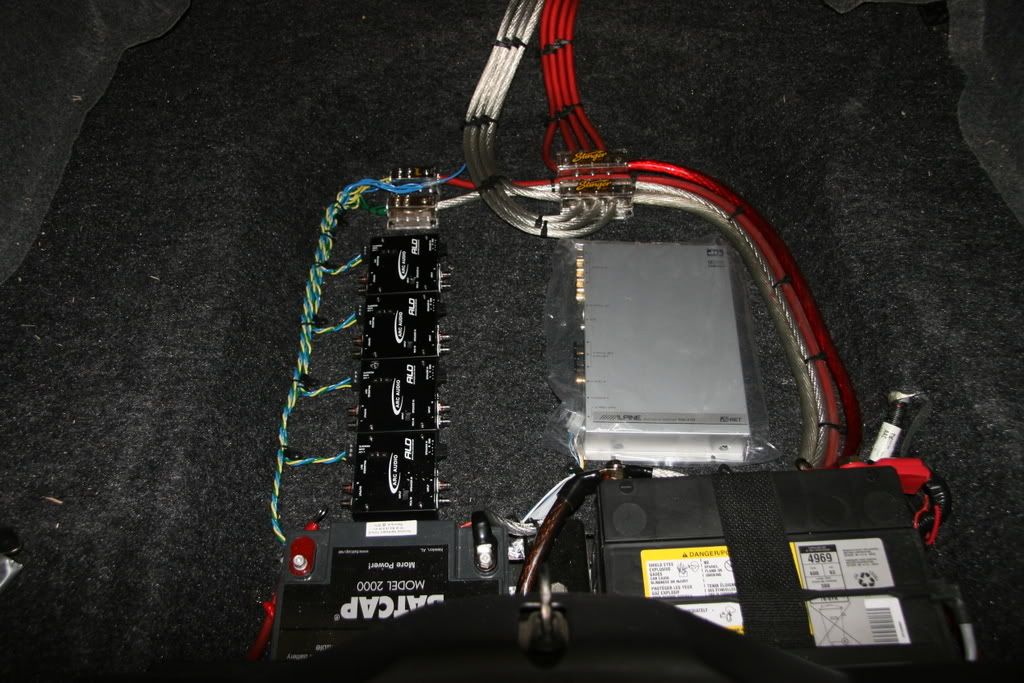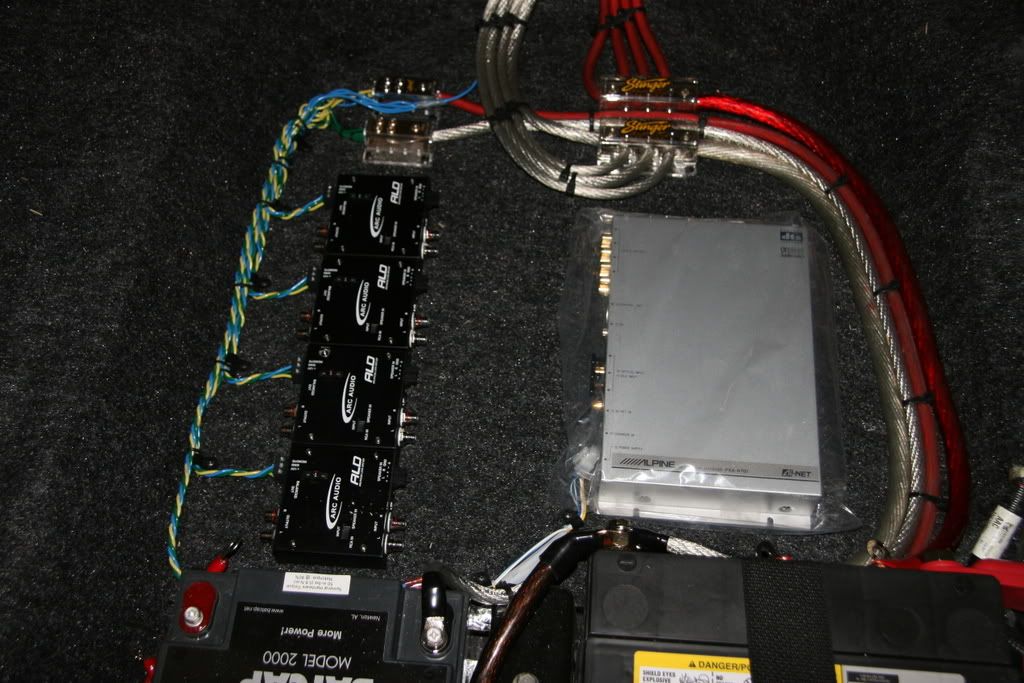 Next step was building a new box..... there is no need for pictures here.... its made of Birch.... like all stereo stuff I do... NO MDF>>>>> it sucks!!!!! and has 2 holes in it for the dual 12's...... and is rear firing....
Then the amp rack..... very simple and sweet nothing special....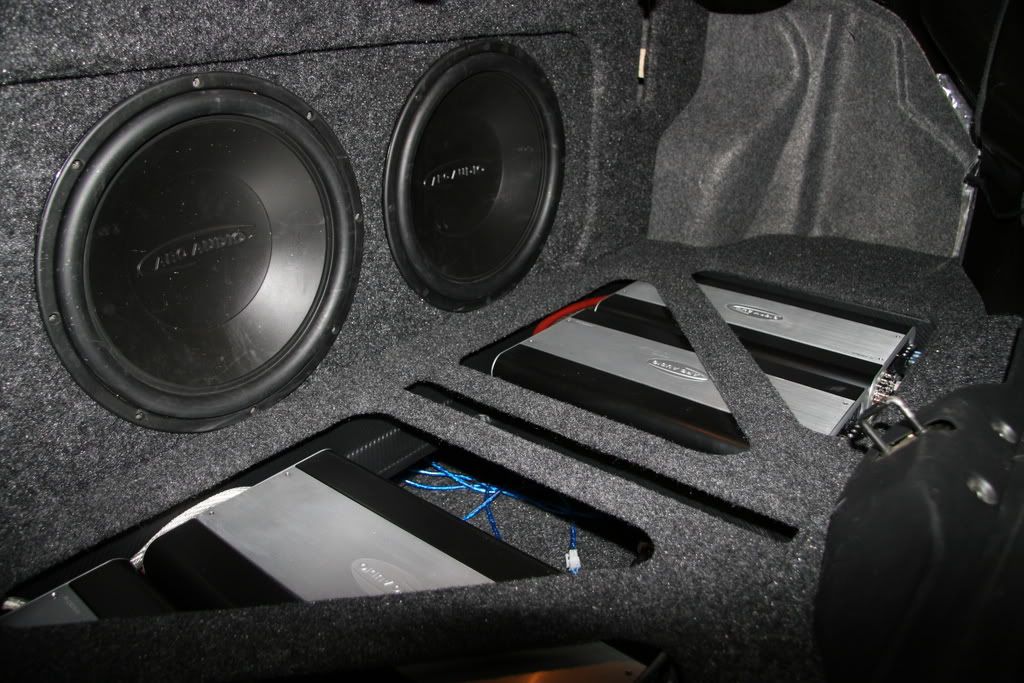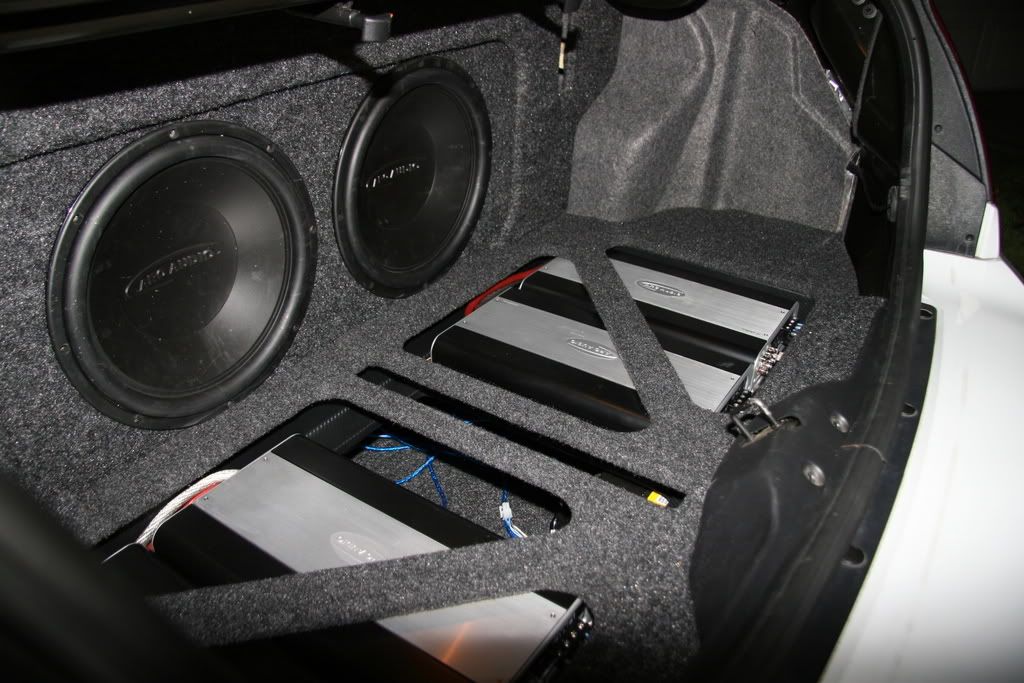 The new trunk is now home for the following products
(2) Arc Audio SE4100's
(2) Arc Audio SE2150's
(1) Alpine PXA-H701
(4) Arc Audio ALD Balanced Line Drivers
(1) BatCap 2000 Series Battery
(1) Stock Saturn Battery in stock location
(2) Arc Audio 12D2's
And the install is going to be straight out old school.... all about sound quality and no bling bling bull ****....
Now that that is about done I now dont like my front stage so I ordered a few things for my car...... I am replacing the head unit... With this ....
And for Speakers I am going to be installing a 3 way front stage..... Pillars will have Renaissance CR-101 Tweeters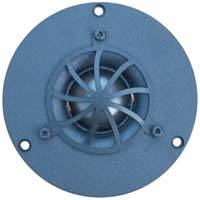 And Renaissance WR-4 Midrange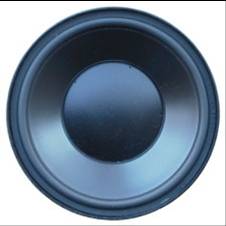 with a WR-8 Midbass in each door...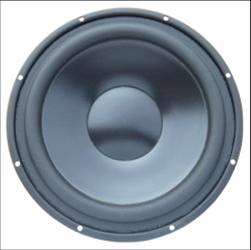 Now why is it when Paul and I get together.... its either him or I end up going broke!!!!
I will continue to do multiple segmenants including detailed stuff on the front pillars for speaker angles for imageing and staging....